I want to live in Vilnius. Thought I was living there? Technically yes… practically I am out 2-3 weeks a month. But then I can compare the town I consider my home base to what I see in my often travels.
Let's recap how the story developed and put an update to it.
The main thing about all this story is that government, business and people do appreciate that gamedev trend with foreigners coming in and doing business here. The atmosphere of growth and development, this does inspire even more than most sated environments.
People
I've looked into comments under the "Game Insight is coming to Vilnius" news at DELFI.lt (kind of people's news outlet) and Verslo žinios (business media), right when they launched the PR story.
Comments were quite positive: "job opps, investment, random welcomes". Obviously some native Delfi readers were concerned on Russians invading Lithuania, but they immediately got replies that skilled workforce and business people are ok and needed for the country. And that few mandatory angry/bullying comments were heavily downvoted.
Then we sat down with the CEO of one well known company to discuss their next steps in Vilnius. The conversation turned up to be very pleasant: "my inbox is full of programmers willing to return to Lithuania to work for us. We started getting these emails after we announced an office in Vilnius. Your people seem to really love your country".
Government
All governments are bulky, slow and bureaucratic, right? Or this is how people see them. What I like about government employees we had to talk to, is that they were clear of what they could and could not do (yet they still promised to try, and seemed to have tried indeed).
Next thing – everyone seems to appreciate the gamedev. Imagine, higher government officials putting gamedev next to heavy industries and production. For some miraculous reason Lithuanian government treats gamedev as a high yield creative industry with lots of well payed professionals, so we don't fave the "games are for kids" story you normally hear from officials.
At one of the meetings we even got a pitch like "at this point we value 20 freshly created gamedev jobs like 200 new jobs at a factory". Impressive!
We were able to meet and talk to pretty much anyone – Vilnius mayor, ministers, universities, etc. Everyone welcomes and approaches with "how can we work together" pitch. The environment feels ready for doing business here in Vilnius.
Business
Local business is the next miracle in my book. We're getting introductions, invitations, welcomes… Vilnius Open Coffee Club, various startup meetups, table tennis tournaments – it is so easy to enter the creative industry, to figure out who is who, to get intros, to connect and become part of the community.
"Hello, we're a CG startup", "hello, we do 3D art", "we offer enterprise scale cloud solutions" – how can we work together. Everyone on that gamedev vibe gets such hello messages from local businesses and startups of all scales. "How can we work together with you" is the perfect intro message, I'd say.
Another kind of message also does inspire: "Can you help us understand games and game development". We got this request by Sorainen, by local startup community and more. "But of course!" – we reply. There's no better way of getting with local businesses than being helpful to them. And sometimes we pick immediate crop.
Famous and professions Sorainen law firm decided to dive into the gamedev world and offered free primary support and consultancy to game developers we reference. The question they're ready to help solve for free is "if you can save by operating via Lithuania". Love the offer? Poke me for more info.
Education
I am only digging into that. But so far, six (!) local universities are involved in game development, game design and computer graphics for games courses.
This is the laboratory VGTU are converting to a Unity class. 25 seats in a class, 100 professionals a year. The challenge for them now is to connect to real production, so students get relevant experience.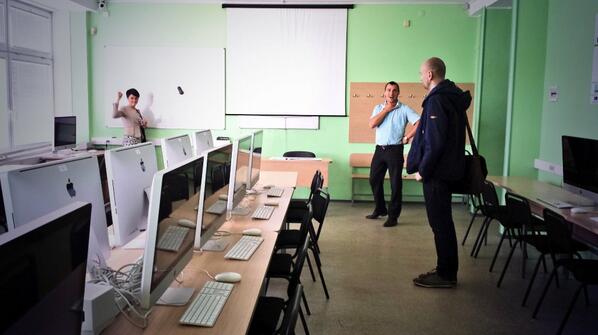 "Students these days are very clever, they ask practical questions, you have to be from the production to be able to answer them, you cannot be from the academy" – professor says – "we cannot have a proper gamedev class without working closely with game development studios".
VGTU aims for a master course for gamedev and for a gamedev course in English to get ERASMUS students.
Creative Spaces…
We have lots of lovely guests in Vilnius these days – Flazm.ru, Mandragora Team, Hunter Hamster Studio, Roman Guro and some unannounced people. Can't wait to unveil the latter and the coolest initiatives those who have moved in already are working on.
Next thing I'll try to put along: creative spaces that are jumping on the game dev vibe: Rupert and HubVilnius/UCC.
This looks like the investment climate is quite healthy here atm. You won't get much (if any…) resistance, but gonna be welcomed and appreciated.